Development
CHARMANT Spirit
CHARMANT is an innovator in the field of titanium surgical instruments, dedicated to making a lasting contribution to society's fundamental well-being through revolutionary technology. Our products are the culmination of newly-developed titanium processing technology, cutting-edge laser micro welding capabilities and a comprehensive understanding of state-of-the-art materials.
Each instrument is thoughtfully designed by our Japan-based team of experts, in conjunction with leading surgeons, to give medical professionals the degree of precision and accuracy required to advance MIS capabilities.
CHARMANT is dedicated to providing people hope for a comfortable, healthier and happy life through the development of innovative medical technologies.
"Charmant Group" is renowned worldwide as a premier company in the global eyewear industry for their groundbreaking Research and Development of new technologies for the optical market. Unparalleled expertise in top-quality production and breakthrough technologies, dedication to customer service and a commitment to excellence set Charmant Group apart in their field. The Group expanded their expertise of new material development in medical field.
CHARMANT Surgical Instruments
CHARMANT surgical instruments are designed to increase tactile sensation for the surgeon for optimum control and functionality.
Instruments incorporate multiple titanium alloys and exclusive special alloy, fused together to provide lightweight strength, springiness and durability.
Surgeon input is an integral part of CHARMANT's development process for instruments that are ergonomic, innovative and practical.
Our team of experts manufacture and hand-finish each instrument at the micro level to ensure excellence and satisfaction.
Benefit of Titanium
Non corrosive
Lightweight and strong
Non magnetic
Biocompatible
The most appropriate kind is selected from various titanium alloys for CHARMANT instruments and exclusive special alloy at the distal parts of scissors maximize the performance of the products.
Constellation of Titanium
Commonly called
Composition
sp.gr.
Elasticity
Feature
Uses
Pure Titanium
Titanium
4.5
0.8%
lighteight
corrosion free
nickel free
Aircraft parts
Fashion accessory
Beta Titanium
Titanium
vanadium
aluminum
4.7
1.4%
lighteight
heat resistant
highly elastic
Golf clubs
Memory Titanium Alloy
nickel
Titanium
6.5
7.5%
memory function
hyper elastic
Guide wires
cell phone parts
Flexible Titanium Alloy
Titanium
zirconium
niobium
5.6
1.6%
biocompatible
highly elastic
Medical device
(joint prostdesis,)
(Endovascular device)

(Charmant exclusive)
Titanium
zirconium
niobiumなど
5.4
4.0%
highly elastic
memory function Nickel free Biocompatible
*Exclusive for Charmant branded eyewear
*Multiple kinds of beta titanium exist.
*Elastic ranges vary under different conditions.
Charmant's laser micro welding technology successfully eliminates deterioration of material or mechanical characteristics cased by thermal effect in conventional brazing.
Laser micro welding vs Conventional brazing
Conventional brazing
Large area is thermal affected to cause deterioration.
Limits the dimensions for quality welding
Likely to cause scratches and deformatons
Laser micro welding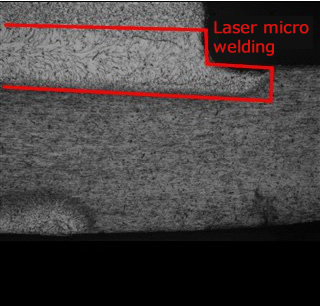 Minimal thermal affect causes little degeneration of strength
Accurate welding in microscopic dimensions
No scratches and deformations
CHARMANT instruments are As Laser micro welding, which requires rather accurate finish of components microscopic oimeusions .
Quality management system
Charmant's long established quality management and control system assure the users reliable and stable quality.
Every step in the production process is designed to assure quality.
Trained and qualified specialists strictly execute the processes to meet required specification.
Strict in-process inspections and final verification are undertaken.
Quantified quality guideline for parts and assembled products apply.
Meticulous inspection are made throughout the production process.